Founded by Patti Quiqley and Susan Retik, two widows from the September 11th World Trade Towers Attack, Beyond the 11th is a charitable organization devoted to supporting widows in war-torn areas, with a primary area of concentration in Afghanistan. Beyond the 11th offers financial and emotional support to widows who have been affected by the horrors of war and terrorism. In the process, Beyond the 11th promotes deeper cross-cultural understanding between individuals and communities.
For more information: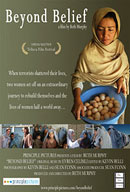 Beyond Belief Documentary
Susan Retik and Patti Quigley are two ordinary soccer moms living in the affluent suburbs of Boston until tragedy strikes. Rather than turning inwards, grief compels these women to focus on the country where the terrorists who took their husbands' lives were trained: Afghanistan. Read more.